Tablet computers will take over the computing world
Oct 22, 2012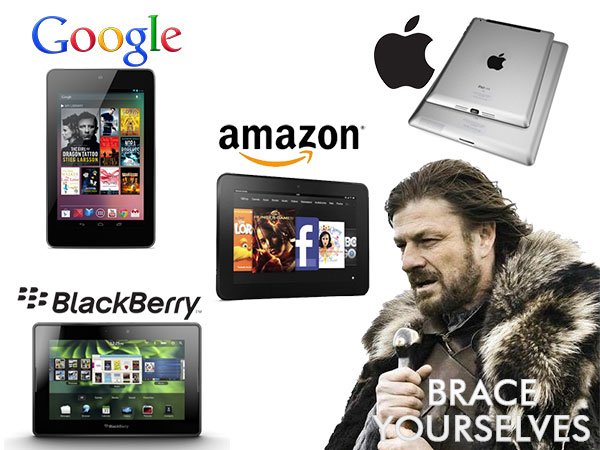 Brace yourselves: The most aggressive week of the year in tech is coming. Apple is expected to announce its new iPad mini to enter budget tablet market on Tuesday, October 23rd (plus some updates to Macs). Microsoft will officially launch Windows 8 on Thursday, October 26th and with the launch comes Microsoft Surface tablets. And then, next Monday, October 29th, Google will be on stage announcing updates to its Google Nexus 7 tablet.
4 months ago, I wrote that tablet computers will take over the entire computing market whenever the big players will pull down the prices to $200 for highly competitive tablets. The time has come. Let's now take a look at all the competitive and cheap options in the tablet market (7-inch screen mostly), cheapest to most expensive:
– BlackBerry PlayBook: 16GB model now sells at $129, no expected price drop for near future. Although I expect the 16GB PlayBook to drop down to $99 after this week's tablet storm.
– Google Nexus 7: 8 GB model now sells at $199, whereas 16GB model is priced at $249. On October 29th, Google is expected to drop 8GB model to $99, 16GB model to $199 and introduce a 32GB model with a $249 price tag.
– Amazon Kindle Fire: 1st generation Kindle Fire 8GB sells at $159, Kindle Fire HD 16GB model sells at $199. I don't expect any price drops; it will be a tough competition for Amazon to stay into this game since they announced they just break even in these tablets.
– Apple iPad Mini: The highly anticipated tech gadget of this week is iPad Mini, which is believed to start at $329 as 9to5Mac, a tech blog known for leaking mostly accurate information about Apple, announced.
Now that we took a look at all the available options, here is what I think: I own a 16GB Blackberry Playbook currently that has a highly sophisticated hardware but lacks in software – which I believe is a gap to be filled in with BlackBerry 10 launch. I was considering buying a Google Nexus 7 to satisfy my software needs. Android marketplace – now called Google Play – is sophisticated enough and includes a lot of apps for different needs. Honestly, when I first heard about Apple's iPad mini, I said I would consider that one in my decision. However, latest leaks show that the iPad mini will be priced around $329, and if that is a fact, then I won't bother because I'm not an Apple fan boy and I won't give up to their extravagant margins. So, I think Apple should price the new iPad mini starting $249 for a 16GB model for me to consider buying it. The fact that they now sell iPod Touch at $299 does not make an argument for them to price a higher device at a higher price because the market is moving and Apple's margins will hurt if they cannot adjust to highly dynamic tech market. If they want to win me and tons of other people who think the same way, they should drop the price of iPod touches and sell the iPad mini starting at $249 maximum.
To wrap up: If you were planning to buy a tablet recently, don't do so until the end of this month. This week will storm the computing world and its impacts will last forever, because in a very near future you'll see tablet PC's taking over the place of personal computers!