Microsoft announced its new tablet today
Jun 18, 2012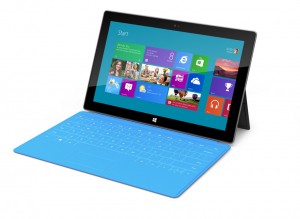 Today, I've seen a lot of buzz around the tech world about Microsoft's special event. Turns out tonight Microsoft  wanted to announce its penetration into tablet market and revealed its new line of tablet ultra-portable PCs, called Microsoft Surface.
The 10.6″ tablet will be available in two different formats:
1. RT Version: This version will feature an ARM processor, will include a HD Display and will run Windows RT as its operating system.
2. Pro Version: This version will feature an Intel processor, will include a Full HD Display and will run Windows 8 as its operating system.
The Surface features perfectly designed a kickstand and a keyboard cover. I think this product is so far is the best design that Microsoft has ever created.
Although no pricing is announced, the Surface is expected to sell anywhere between $400-$900 depending on the version.
Obviously, Microsoft didn't want to be left behind in the increasingly popular world of tablets. This is the second solid move by Microsoft in the mobile industry, after announcing its partnership with Nokia to produce Windows Phone featuring mobile phones.
I'm personally not thrilled with the announcement since I believe the tablets in general are overpriced. What makes me surprised though is how Blackberry Playbook is priced ($199) regardless of its advanced hardware for the price. We know that Playbook was not the success RIM was seeking for, but it is becoming widely popular because of the price tag. I know it doesn't compare to Microsoft Surface or Apple iPad, but this is an indicator that the tablets should be priced much more aggressively. There are lots of Chinese-made tablets out there selling about $60+. And I believe, tablets will become way popular when big players like Apple will pull down the price tags of iPad-class products to somewhere near $299. I don't know how soon it will happen though, but surely that will be the time when tablets and mobile in general, will take over the computing industry completely.