Will French strikes pan out?
Jan 30, 2009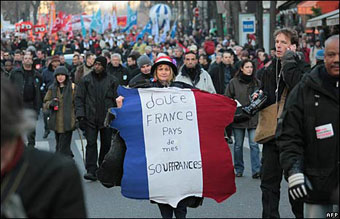 Yesterday, (Thursday, January 29th, 2008) French folks were on strike to protest the handling of economic crisis of the government. The strike began at 8 PM, Wednesday and is to end at 8 AM, Friday.
As a result of these strikes, transportation, education and health services in the country were disrupted for a day. Ministry of the Interior stated that a million of people demonstrated in "Black Thursday", whereas the French unions reported the number of the people protested as 2.5 million. Even though demonstrations disrupted the life in some cities for a day, the attendance to the strikes were less than expected; consequently, authorities reported that it was more like "Gray Thursday" than "Black Thursday".
As the French newspaper _Le Parisie_n reported from a result of a questionnaire, 69% of the public opinion supported the strikes.
Now that the strikes are about to end, will they pan out? What will the French government do? The antagonistics of government reported that the unemployment in the country is expected to be 10% and the government should focus on the encouragement packages to uplift the broken economy.
By the way, I've just saw that Sarkozy's last speech was to reassert his authority and mention that government's reforms were on the right track. We will see what will happen in few weeks.
Of course the economic crisis affected the everywhere in the world, but this strikes of French folk show how the folk's actions obligate the government to take new actions. I appreciate the way how French people apply democracy; if there is a demonstration, everyone is organized, and most of the citizens take a part in it.
In addition, the employees of Lufthansa Airlines was also on strike to increase the amount of their salary. Thus, 82 flights were cancelled.
As a result, the crisis has effects on every country and every company. I hope that it will come to a good end.