Turkish Lira is Falling Down
Mar 15, 2009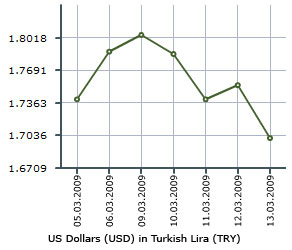 On March 9, 2008, the currency of Turkey, Turkish lira, had the lowest rate in US Dollars of past 10 years. The conversion rate of US Dollars to Turkish Lira was moving around 1.7 for a month; however, this movement lost its stability on March 9 and increased to 1.8. This conversion rate was the worst of the past 10 years. The conversion rate could come to only 1.7 as maximum in 2000 crisis, but in 2009 the rate changed to 1.8 as maximum. However the prime minister of Turkey, Recep Tayyip Erdogan, stated that the crisis didn't clearly affect our country, these stats prove that the affection of the global crisis is more in 2009 than it was in 2000.
In addition, this rate was moving around 1.17 and 1.18 in September 2008; besides, it increased continously since October 2008. January 2 was the alert of this recession in which the rate moved to 1,6424 from 1,5291.
Now, the government is expected to set new investment plans to minimize the effects of this recession on our country.