Moved to a New Host & .net to .com
Nov 5, 2010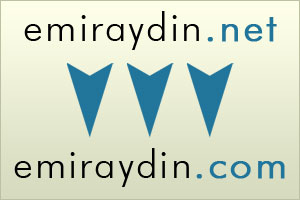 Recently, I have changed my host which brought about lots of other things to do. Since I started publishing my website in 2006, I was using emiraydin.net as my primary domain because someone got .com before me in 2005. I acquired .com domain in late 2007 and redirected it to .net. So, .com was redirecting to .net for past 3 years. However, I instantly decided to use .com as my primary and left my worries about PageRank, SEO, etc. behind. I am now using .htaccess 301 redirect from .net domain to .com domain which relieved  my SEO concerns. From now on, emiraydin.com will be my primary domain.
Also, I've played with the code of the think bubble on the top of the webpage because the script could not get my Twitter status when Twitter was down and thus was causing a fatal error. I wrote a new script for that which will tell when Twitter is down instead of giving meaningless error messages causing to a mess in whole webpage's view.
In addition to these recent changes, you will also see me setting up new projects very soon.