Local elections in Turkey
Apr 3, 2009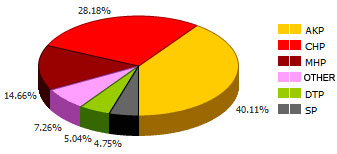 Last week was the time to vote for the local elections in Turkey. Results are still being discussed while the Supreme Electoral Council (YSK) reported the formal results. The results show that the oppositional parties increased their votes while the leading parties had less votes comparing to the preceding elections.
As it can be seen from the chart, the current leading party, Justice and Development Party (AKP), had 38,5% of the votes, whereas the oppositional parties got votes of following percentages:
Republican People's Party (CHP): 23,2%
Nationalist Movement Party (MHP): 16%
Democratic Society Party (DTP): 5,7%
Felicity Party (SP): 5,2%
Democratic Party (DP): 3,8%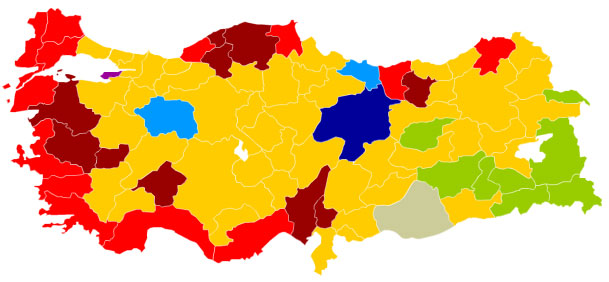 The prime minister and the president of the leading party, Recep Tayyip Erdogan, stated that they learned their lesson from the decrease of their votes in the local elections. I hope that this elections will help every politician to find the right way to represent the folk and work more to "reach above the modern civilization level" as Mustafa Kemal Ataturk aimed.