Hope is chosen over fear!
Jan 20, 2009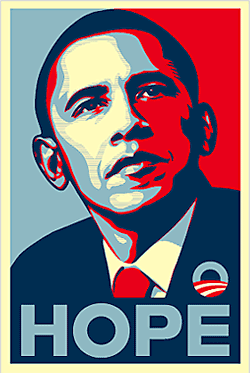 Today, a new chapter in American and world history is being opened. The inauguration of US's 44th president, Barack Obama, excited billions of people around the world; furthermore, I was one of them. Everyone was waiting to witness history and was curious about Obama's speech. Time passed by, and he finally came on the stage. Firstly, Joe Biden made his speech of oath, and then Obama did. I thought that Obama forgot it because of his excitement when he stopped for a while. Then I realized that the chief made a mistake, and Obama was waiting for him to fix it. He fixed it, and when the oath was ended, Obama went to the rostrum to make his first speech as US's 44th president. It was an amazing speech because Obama called out to everyone, not only the citizens of US. He called out to people of every religion and every socioeconomic class. By calling out to all the people in the world, Obama gave his first signal that he will not be only US's president, he will be a leader of the world. The cameras continuously showed George W. Bush's face in the crucial points of Obama's speech; moreover, everyone could see that he was ashamed because what he has done to US and to the world by looking at his face. Furthermore, this was one of the crucial points of Obama's speech:
This is the meaning of our liberty and our creed – why men and women and children of every race and every faith can join in celebration across this magnificent mall, and why a man whose father less than sixty years ago might not have been served at a local restaurant can now stand before you to take a most sacred oath.
These words of Obama clearly explained that he was proud of being the first African-American president of US, and he was also proud of mentioning that everyone is equal. By the way, I really appreciate how Barack Obama brought US from the years of racism to these days. In addition, when I saw Obama's children before he went to the stage, I got a feeling that they had the same light in their eyes with their father; furthermore, I wondered if one of them would be the first woman president of US.  It may happen, why not?
In brief, I became very pleased as a Turkish citizen after Obama's messages contained in his speech because his speech called out to everyone in the world without any distinction, and I can get the signals of the world peace this speech. I hope that Obama will show his courage to support the world peace in his first 100 days and will be the world's hope. Congratulations to all US and world citizens!