History of Tarsus American College
May 27, 2010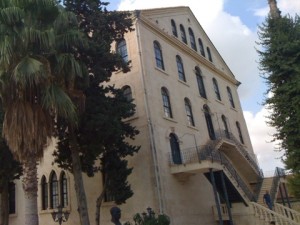 I have been recently working on the information about my school in Wikipedia. Even though I have came to an end with my high school life, the journey of Tarsus American College has just begun for me since the taste of its traditions and spirit flourishes with graduation and never ends. I have been reading about school's history for a long time and now that I am graduating from high school, I believe that this is the time for me to share some authentic facts and unique documents about my school which has a history of 122 years, Tarsus American College in Turkey.
Name and Establishment
Tarsus American College or sometimes referred as Tarsus American School (Tarsus Amerikan Koleji, Ozel Tarsus Amerikan Lisesi in Turkish) is a private coeducational school located in the historic city of Tarsus, province Mersin, Turkey.
The school was established in 1888 under the name St. Paul's Institute at Tarsus and was in close contact with the American Board Foundation. It was regarded as one of the missionary schools in Turkey. The school had to endure difficult times in the World War I and ultimately was entitled to be a high school governed by the Turkish Republic in 1928, under an administration led by Mr. Woolworth. After the school began to be governed by the Turkish Republic, it was named Tarsus American College.
Buildings
The symbolic building of the school, Stickler Hall (seen above), was finished construction in 1911. It has been the tallest building of old Tarsus, 21 meters height. After new buildings were constructed in Tarsus in 2000s, Stickler Hall lost this title. Stickler Hall stands out with its high roof reflecting a triangle on every side. Stickler Hall now hosts many classrooms, the Social Sciences and Literature Departments, and an auditorium. Stickler was restored between 1997 and 1999.
As the time went by, Unity Hall, Friendship Hall, Sports Hall, Sadik Pasha Mansion, Centennial Hall, Maynard Hall and lots of accommodation halls were added to the school campus.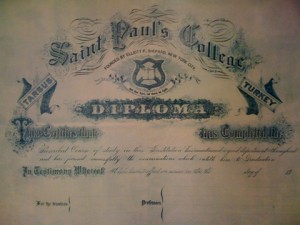 Graduation and Diplomas
TAC graduated its first alumni in 1930. I have found the very first diploma given by TAC, this was an old document located in the Administration Building. As you can see in the picture above, this diploma is quite old and those were the times when TAC was regarded as St. Paul's Institute at Tarsus. The old school motto caught my eye on this diploma: " And God said, 'Let there be light.' " I searched this sentence, and it seems to be quoted from Bible which reflects that the diploma was given at the times when TAC was a missionary school.
Academics
– TAC started co-ed education in 1979. Alongside 506 boys, there were 35 girls in the student body.
– Once been a part of school life, the boarding section for boys opened in 2002.
– The boarding section for girls was opened in 2008 for the first time.
– TAC began to offer International Baccalaureate (IB) Diploma Programme in November 2004.
The Tradition: "the Abi-Abla System"
TAC is one of the two schools which apply this system in Turkey. It is called the Abi-Abla System and the other school that has this tradition in Turkey is Galatasaray High School in Istanbul. This system is not administered by the school administration, it has become a part of school life and is administered by the student body. In this system, there is an enormous respect between the higher classes and the lower classes. For instance, a 9th grader calls a senior as "Abi" (male-brother) or "Abla" (female-sister). Each year, senior classes  become the leaders of this system and they listen to the concerns of students and organize many activities outside school. These activities include dinner meetings (yemek) and other meetings known as çay, çardak and hangar. Each year, a group of senior students is assigned to the lower classes as Abis and Ablas to continue this spirit and organize meetings when needed. Unlike many other schools, TAC students may protest the administration if they really believe that something wrong was done. This is not a typical quality of high school students, but TAC students are mostly loud which make them regarded leaders in their community. For the freedom and free thought it gives, TAC serves the quality of a university life.
This system has been long discussed by the new teachers and administrators; however, as the alumni notice, this system is the main reason behind TAC being a leader school with the motto "Leaders for Turkey, leadership for the world." Today, many TAC graduates are regarded in their community as leaders and they continued to lead in their future life with what they learned from TAC. Among these graduates, Muhtar Kent is the Global CEO of the Coca-Cola Company, Mehmet Emin Karamehmet is the founder of Turkcell (the biggest mobile company in Turkey), Cengiz Candar, Oral Calislar, Mete Akyol  and Ayse Arman are famous journalists, Istemihan Talay is a former minister and Member of the Parliament and Necati Güler is the former captain of the Turkish National Basketball Team. There are lots of musicians, academicians, researchers and businessmen among TAC alumni. Most of them are the leaders in their industry and they say that they are thankful to TAC for the leadership and community qualities it has earned to them.