Buying gifts for your loved ones just got easier
Jun 20, 2012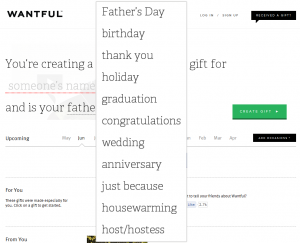 I came across a new website today called Wantful. Looks like they really nailed the process of choosing gifts for your loved ones by just asking you simple questions about him/her.
You start with filling in the blanks:
You're creating a __\_ gift for ___\_ , who is ____ and is your _____ .
First blank: Occasion, second: name, third: gender, fourth: relationship.
Then you are asked these questions:
Where would she like to spend his free time?
Which of these homes would she want to live in?
What range of styles seems most like she?
When it comes to food, she lives to eat / eats to live.
When it's comes to cooking, she loves it / hates it.
Her kitchen is basic / nearly a restaurant.
She never/sometimes/always listens to music and never/sometimes/always sings along.
How organized  is she?
After responding to those through the nice interactive interface, you are then given a list of products he/she might be interested in.
Then you can print it and mail it to him/her or yourself, send it via Facebook or via email. Pretty cool right?