Blackberry 10 Jam World Tour: Montreal
Jul 11, 2012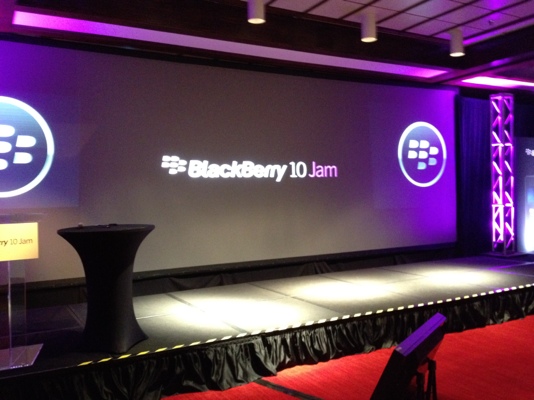 I was at the Blackberry 10 Jam World Tour organized in Montreal by the tech industry's suffering kid Research in Motion. I should say that my faith is RIM is restored today; they are onto some great improvements.
It was a great day; first thing in the morning was the keynote given by the execs. They were pretty realistic about the company's current situation, but they seemed very enthusiastic and were confident that this would change. Then we had lunch (amazing open buffet) and during the lunch some people competed by pitching app ideas for the Blackberry 10 platform. After the lunch, we moved into Blackberry 10 developer sessions. In these sessions, senior developers at RIM gave overviews of how to develop an application for the brand new Blackberry 10 platform. I was unsure at first because there were three choices: Native, Web and Enterprise track. Coming from a web development background, I thought the Web Track – in which they showed how to integrate HTML5 web apps into the Blackberry platform – would be the best for me. However, later on I realized that using the native framework would be much better since it included the info session about the powerful Cascade UI. Besides, I've programmed with C/C++ earlier on. And I thought maybe they could also showcase integrating apps from the Android Java to Blackberry 10 and because Java is my strong suit, I decided to go with the native session finally.
I'm glad with my decision. I was simply amazed by the simplicity and the power of Cascade UI. A senior developer at RIM showed us a pictures app which was programmed using the Cascade UI in less than 300 lines of code, yet it was very powerful.
I say my faith in RIM was restored today, because this time they really made it easy for developers. You can develop apps in 5 different platforms: Native SDK (C/C++), Cascades (C++/Qt), WebWorks (HTML5), Adobe AIR (ActionScript) and Android Runtime (Java). I will definitely give this new platform a go; in fact I'll take advantage of the multiple platform options and create apps at once for both Android and RIM!
In addition, they gave me a Blackberry 10 Alpha Device to test my apps on and play around with: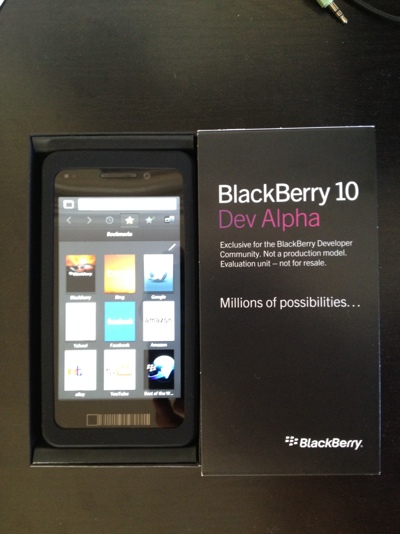 This device looks like an iPhone yet it is very different, it has a much larger screen and it has no home button. I also got a Blackberry PlayBook with a gift card earlier last week; so I was thinking, am I becoming a RIM fanboy? Haha, maybe not. I'm still an iPhone user and think the AppStore is the killer but what RIM did and can do in the near future really amazed me. They even guarantee new app developers at least $10,000 dolars of revenue from their certified Blackberry 10 app, and if they cannot make that much, they cover the difference! Now, seriously, that is a huge claim, and they have been really nice to developers with all these perks, so I hope they get good results in return. Should I start to regret that I turned down the summer internship offer from RIM to work on this amazing thing? Haha, not now, we'll see. Treasure seekers out there: Start buying some RIM stocks because it won't be long until the stock price surpasses the all time best!