A Grand Vision for Global Entrepreneurship
Nov 6, 2013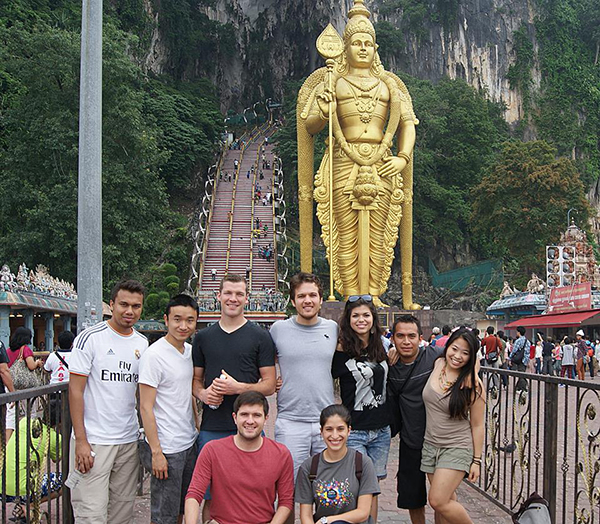 On September 14, 2013, I was really excited when I got the notification that I was selected as one of the top 200 young entrepreneurs worldwide to attend Global Entrepreneurship Summit 2013 in Kuala Lumpur, Malaysia with all expenses covered. The invitation was not only for the Global Entrepreneurship Summit which was a 2-day long event, the real reason they have chosen 200 top young entrepreneurs worldwide and brought them all together was a grand vision for global entrepreneurship: Global Startup Youth.
I left for Malaysia on October 6, 2013, it was a 30+ hour trip, my longest ever, with all the connections following this route: Montreal – Los Angeles – Tokyo – Kuala Lumpur. I arrived in Kuala Lumpur in the morning of October 8th. The first 3 days I was there in Malaysia, they put all these 200 selected young entrepreneurs into one big room for one purpose: Finding entrepreneurial solutions to world's most depressing problems in most problematic industries, namely, education, healthcare, environment and women empowerment. They have assigned teams of 10 to work together to spot a problem, find a solution, create a prototype of a product utilizing technology and present it. There were 4 types of people: hustlers, coders, domain experts and youth leaders. Although I'm both a hustler and a coder, I've decided to apply as a youth leader since I had some organizational leadership experience – and that is how I got selected. Eventually, we didn't win – our team had a major conflict. What I have been calling the sickness of entrepreneurship nowadays, the focus on "mobile apps", came back in play in this event as well. Mobile apps might be great if your sole purpose is to bring change to people who already have access to that technology. However, when you have greater ambitions and a grand vision like solving the "maternal mortality" problem (In developing countries, 1 in 4 mothers die while giving birth), it doesn't quite work out that way – you don't even know the literacy rate in developing countries not to mention the ease of access to smartphones in those countries. Our team had focused on a great problem, but we were unfortunately infected with the "sickness of entrepreneurship". In a make or break moment, at midnight, 12 hours before the presentations, we asked a mentor to help us figure out how to pivot the idea. There were two competing ideas: One was suggested by a coder in my team, it was to build two applications, and let one of them generate the revenue while the other would be used for social good. Having two different platforms was one of the reasons why my first business failed – so I was completely against the idea. The other competing idea was what I suggested, to come up with one user friendly application but to focus more on the distribution channels and the business model, meaning distributing devices with the software installed in it in order to enable this social good in developing countries. Our mentor said that he saw my idea more as a feasible business, but considering we had 12 hours, building an app would be easier. With one vote difference, our team decided to go with the first model. Eventually, we didn't win – but the winners were the ones who I had identified as "the ones with relatively smaller vision and smaller problems but they had a complete solution for the problems they have pitched." The winners in healthcare category built a mobile app to facilitate daily lives of blind people. The winners in education category were rather impressive: They have built an application which shows you career paths and daily events to attend in order to get your dream job, by searching LinkedIn profiles of people who have achieved similar things you are ambitious to achieve. I was happy to see that not all teams were infected with the "sickness of entrepreneurship", they instead benefited from it by focusing on smaller problems.
The last 2 days of the event was the Global Entrepreneurship Summit. President Obama was supposed to come, but due to the government shutdown, he was represented by the Secretary of State of the United States, John Kerry and also his video message to the audience was broadcasted. The event was also attended many high profile politicians and bureaucrats. Funny fact: I was asleep while John Kerry was giving the keynote because the night before, we got back to our hotel late after celebrating the end of the Global Startup Youth. It was great to network with many global entrepreneurs, but after spending some time at GES, we have realized that we are getting closer to our time in Malaysia yet we haven't had the chance to explore the city. So we decided to skip some parts of the conference after assembling a group of 10 people. We have visited the Batu Caves, one of the most popular Hindu shrines in the world which also has monkeys all around! We didn't forget to spend some time shopping and exploring the landmarks of the city.
All in all, it was a great experience and I enjoyed every minute of it. I have met some of the brightest people I will ever know in my life. Bringing together the best and exceptional people in the world, especially young people who will build the future, is a great idea. I have been hearing that we were the first but not the last attendees of Global Startup Youth, which was sponsored by Malaysian and US government. The event is likely to happen for the second time in collaboration with the next edition of the Global Entrepreneurship Summit. There is obviously a great financial commitment from people who supported this and it will most likely continue, but if there is a key takeaway from this event – which is always a constructive criticism from my side – it would be: Let's rethink our grand vision for entrepreneurship. You want to solve big problems? Then you have to think big. You have to envision the future instead of following the trends. Trends shouldn't set the limits of your thought. "Mobile apps" might be popular today due to it's non-capital-intensive structure and its high return for relatively low investment, but if you want to innovate, you have to be able to think outside of the popularity pool and you have to find problem-specific solutions. This is the only way to heal entrepreneurship on a global scale and create a better future for everyone on living on this planet.